Moto Guzzi MGS 01 2002.
Convinse subito molti appassionati ed alcuni provarono a prenotarne subito una, era pronta e producibile.
Ma così non fu.
Ne produssero solo un numero limitatissimo di esemplari e nessuno omologabile per l'uso su strade cittadine, pochi gli esemplari e solo per frequentatori di piste.
Mentre scrivo sto ascoltando i Pooh su Youtube, che non so perché ma mi sono sembrati subito adatti 😉 😉 .
Mi si perdonerà la franchezza.
Ricordo che mentre leggeva la sua rivista quel Cliente ed amico sottolineò con il tono della voce che questa moto era realizzata dalla Ghezzi & Brian, azienda specializzata nel realizzare modelli speciali(ssimi) di Moto Guzzi.
Fu la stessa casa di Mandello a contattarli.
Chiedendogli di realizzare una moto capace di stupire, facendolo quando (a quanto pare) le loro di risorse economiche (e che altro) erano ridotte ai minimi termini.
Prima di loro a dare una certa spinta al progetto fu John Wittner (Dr. John), che da gran appassionato del marchio aveva già preparate diverse Moto Guzzi, che utilizzava esclusivamente su piste.
Moto Guzzi MGS 01 2002, cultori, fortunati ???
Quelli che sono riusciti a prendersene una si, ed oggi hanno una delle moto più desiderabili degli ultimi trent'anni.
Esteticamente sublime, meccanicamente valida.
Vent'anni fa vedere anche solo in foto una moto come questa; con quell'unico scarico centrale sul codino monoposto ed una linea sublime; colpiva……
Moto Guzzi MGS 01 2002 e il bicilindrico a V di 90° con quattro valvole per cilindro….
iniezione elettronica e raffreddato ad aria, 1225 cc, cambio a sei marce, trasmissione finale a cardano, 130 cavalli di serie che arrivavano a 165 per la versione da pista, forcelle Ohlins con quella anteriore a steli rovesciati da 43 mm e il mono forcellone scatolato in alluminio dietro, pistoni Cosworth ad alta compressione da 100 mm.
Una trave d'acciaio discendente il telaio.
Cerchi OZ in alluminio forgiato, due dischi da 320 davanti e un singolo da 220 dietro per l'impianto frenante della Brembo, il tutto con un peso complessivo di 192 chilogrammi (93 il solo propulsore).
Moto Guzzi MGS 01 2002, Una delle poche prodotte è stata venduta a 80.000 Euro, quando ""di listino"" costava circa 25.000, così per dire 😉 .
Questa moto ha vinto nel 2006 e 2007 la Battle of the Twins a Daytona con Gianfranco Guareschi, contro moto che sulla carta erano molto più competitive di lei.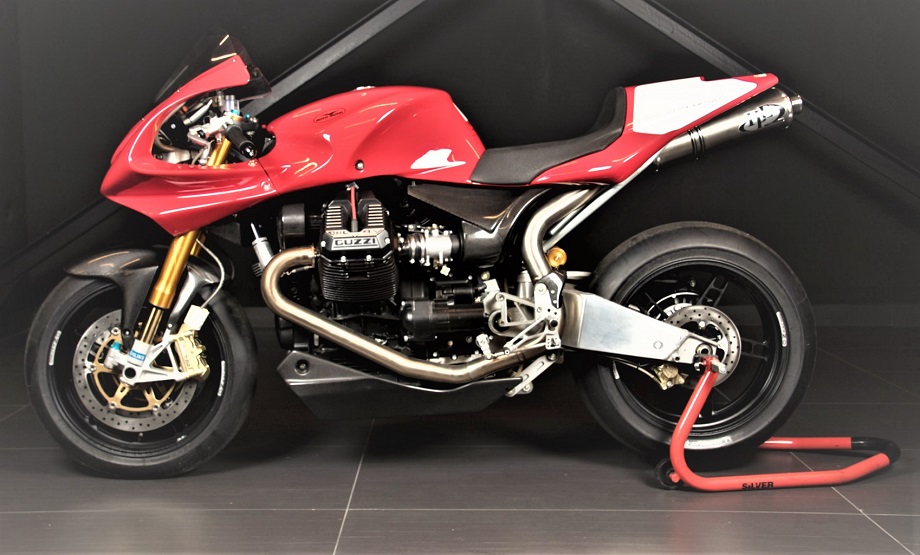 Moto concept.